Round 4: Delhi NCR Coronavirus Telephone Survey "Recovery and Vulnerability: Divergent Paths in the Wake of the Coronavirus Pandemic"
Past Event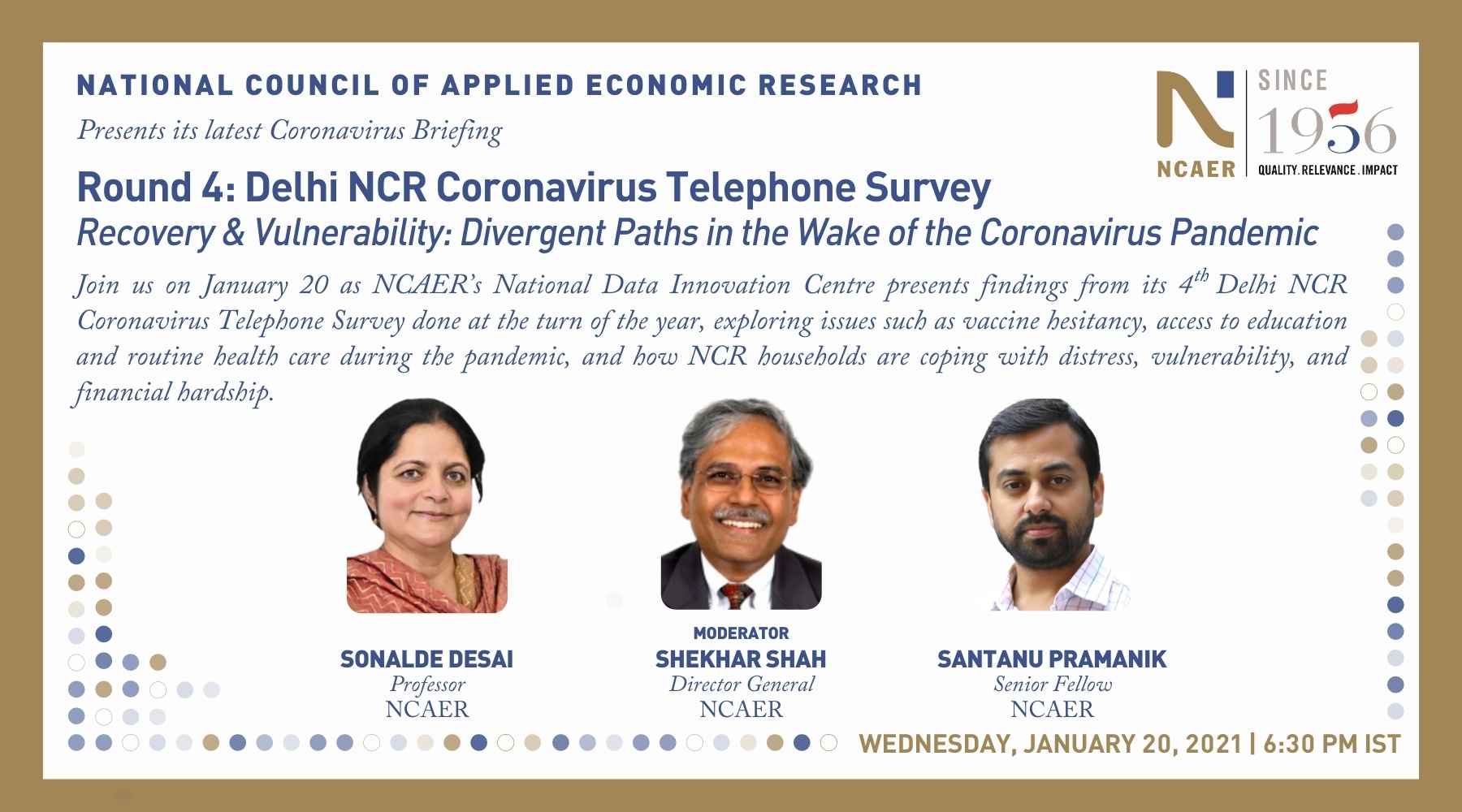 Recovery and Vulnerability: Divergent Paths in the Wake of the Coronavirus Pandemic
As the nation hopefully begins its recovery from the Coronavirus pandemic through a massive vaccine rollout, assessing the speed of recovery in different arenas of life will require a better understanding of the overall impact of the pandemic and the level of willingness among individuals to get vaccinated. In spite of the opening of the economy in recent months, employment and income levels have not seen a uniform recovery. Schools and colleges have remained shut since March 2020, and classes have begun only recently in some States. Moreover, the disruption of routine health services has emerged as a major area of concern in the wake of COVID-19. The recovery appears to be taking different pathways for different people, what some have called a K-shaped recovery.
NCAER hosted Sonalde Desai and Santanu Pramanik from its National Data Innovation Centre to share the results of Round 4 of its Delhi NCR Coronavirus Telephone Survey (DCVTS-4) launched on December 23, 2020 and completed on January 4, 2021. NCAER Director General Shekhar Shah moderated the discussion
DCVTS-4 builds on the three earlier rounds of the NCAER DCVTS, which were carried out in the immediate aftermath of the pandemic in April and June 2020.
This fourth webinar will report its key findings on:
The extent to which individuals are willing to get vaccinated and their willingness to pay for the vaccines;
The extent to which students have been able to participate in online classes held by schools, and coaching centre-based and home-based learning during the period when schools have been closed;
The manner in which health providers have coped in providing routine and emergency health care while dealing with the pandemic;
Economic recovery, occupational shifts during the pandemic, and vulnerability among different occupational groups; and
The levels of distress and financial hardship experienced by households and whether the most vulnerable households have had access to safety nets.
DCVTS-4 resurveyed households contacted in the earlier rounds of DCVTS and completed interviews of 3,168 households (at a 61% response rate) from the rural and urban areas of Delhi NCR, which includes Delhi as well as rural and urban households from selected districts of Haryana, Rajasthan, and Uttar Pradesh. The webinar was attended by over 100 participant
NCAER DCVTS 'Round 4' Results and the 'Press Release' is available on this webpage.
Three earlier rounds of the DCVTS (April 14, May 1, and July 4, 2020) is available here.