Long lines of migrant families walking across State borders to their hometowns during the pandemic-induced lockdown has brought to the forefront the importance of migration for the Indian economy, development, and society. However, it has also highlighted a lack of awareness of the magnitude of migration in India and the tenuous ties of many migrants to their destinations. This disconnect was largely due to the unavailability of adequate data on internal migration, resulting in a weak policy response when the pandemic struck. Internal migration is likely to gain more significance as India experiences heterogeneous demographic transformation, with the growing economies of the southern States increasingly relying on migrants from North India to augment their aging workforce. The absence of data and inconsistent definitions of migration hamper policymaking in diverse arenas, including social protection, education, and health.
NCAER's National Data Innovation Centre is hosting a web-based panel discussion with eminent researchers and experts to discuss the dynamics of internal migration in India, and the challenges involved in measurement and data collection, especially streams of migration that are poorly captured by existing data systems. Following are some of the questions that will be addressed by the panellists: Can we begin to define different types of internal migration? What would it take to improve the existing data collection mechanisms to better capture migration flows? What would new data systems look like? How would measurement differ for migrant men and women?
The discussion will be held among an interdisciplinary panel of researchers, policymakers, and journalists, who have studied migration extensively. Following are details of the moderators and panellists in the webinar: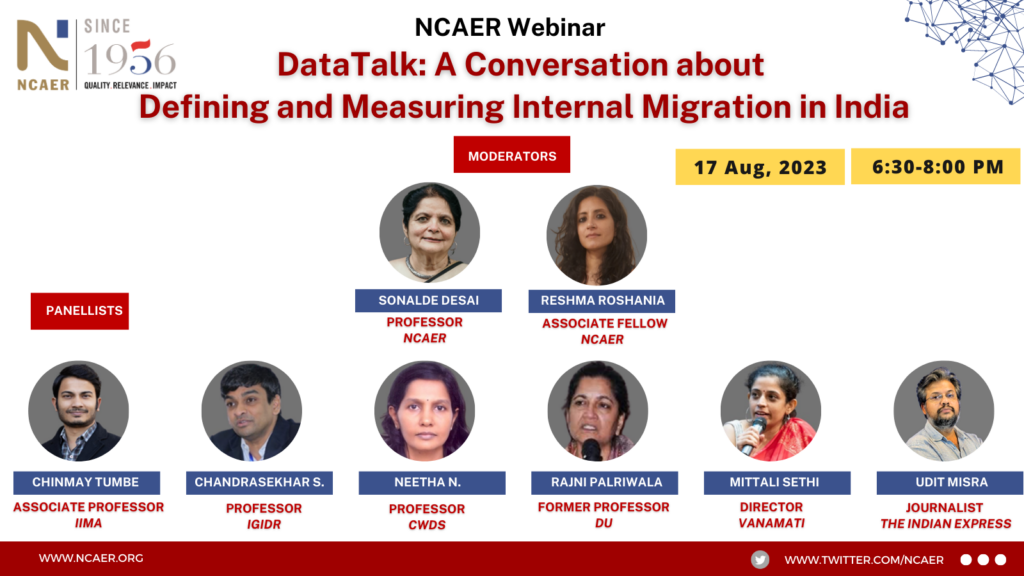 Moderators:
Sonalde Desai is a Professor at NCAER with a joint appointment as Distinguished University Professor in the Department of Sociology at the University of Maryland. She directs the NCAER-National Data Innovation Centre (NDIC). She is an internationally known demographer whose work deals primarily with human development in developing countries with a particular focus on gender and class inequalities. She leads the India Human Development Survey (IHDS), India's only nationally representative panel study spanning two decades.
Reshma Roshania is an Associate Fellow at NCAER. Her research interests include nutrition, food policy, migration, and gender. She completed her PhD in Nutrition and Health Sciences in 2021 from Emory University, where she studied food environments and nutrition status among circular migrant families in Bihar. She has worked in global health and development for close to ten years, specialising in evaluation and research with various organisations including PATH, International Center for Research on Women, Save the Children, and International Medical Corps.
Panellists:
Chinmay Tumbe is passionate about migration, cities and history, and is currently a faculty member in the Economics Area at the Indian Institute of Management Ahmedabad (IIMA). An alumnus of the London School of Economics and Political Science; the Indian Institute of Management Bangalore; Ruia College, Mumbai; and Rishi Valley School, Madanapalle; he has been a faculty member at the Tata Institute of Social Sciences, Hyderabad. He was a 2013 Jean Monnet Fellow at the European University Institute, Florence, and the 2018 Alfred D. Chandler Jr. International Visiting Scholar in Business History at Harvard Business School, Boston. His first book, India Moving: A History of Migration, was published in 2018 and second book The Age of Pandemics, 1817-1920: How They Shaped India and the World, was published in 2020. He is a member of The Lancet COVID-19 India Taskforce and was a member of the Working Group on Migration of the Ministry of Housing and Urban Poverty Alleviation in 2016-17. He has published widely in leading journals and newspapers and helped set up the IIMA Archives.
Neetha N. is Professor at the Centre for Women's Development Studies (CWDS), New Delhi. Prior to joining CWDS in 2006, she was Associate Fellow and Coordinator, Centre for Gender and Labour at the V.V. Giri National Labour Institute, NOIDA. Her research focuses on women's employment, women workers in the informal sector, domestic workers, unpaid domestic and care work, female labour migration, and gender statistics. She has published extensively in national and international books and journals. Her recent edited books are 'Working at Others Homes: The Specifies and Challenges of Paid Domestic Work (Tulika Books, 2018) and Migration, Gender and Care Economy, (with Irudaya Rajan, Routledge, 2019). She was the Co-Chairperson of the Working Group on Women's Employment set up for the formulation of the current (14th) Five Year Plan of the State Planning Board, Kerala.
Rajni Palriwala retired from the University of Delhi, Delhi School of Economics, as Professor of Sociology, where she also served as Head of the Department and Dean, Social Sciences. She has taught at the University of Delhi; University of Leiden, Netherlands; and SciencesPo, Paris. Her research falls within the broad area of gender relations, covering care and emotion, citizenship and the welfare state, kinship and marriage, dowry, women and work, migration, women's movements and feminist politics, cross-cultural and comparative studies, and research methodology, though her teaching went beyond these issues. In addition to numerous journal articles and book chapters, she has authored Changing kinship, family, and gender relations in South Asia: Processes, trends and issues (1994) and jointly authored Care, culture and citizenship: Revisiting the politics of welfare in the Netherlands (2005) and Planning families, planning gender: The adverse child sex ratio in selected districts (2008). She has jointly edited Marrying in South Asia: Shifting concepts, changing practices in a globalised world (2013), Marriage, migration, and gender (2008), Shifting circles of support: Contextualising kinship and gender relations in South Asia and Sub-Saharan Africa (1996), and Structures and strategies: Women, work and family in Asia (1990).
Chandrasekhar S., an alumnus of Delhi School of Economics and Pennsylvania State University, is Professor at Indira Gandhi Institute of Development Research, Mumbai. He was awarded the Mahalanobis Memorial Medal 2016 by The Indian Econometric Society, for outstanding contributions to the field of quantitative economics. He has worked extensively on the issues of urbanisation, labour markets, and internal migration in India. He coordinated the research initiative, "Strengthen and Harmonize Research and Action on Migration in the Indian Context", which was supported by a grant from Tata Trusts. The project also coincided with the Government of India constituting the Working Group to Study the Impact of Migration on Housing, Infrastructure, and Livelihood, of which Chandrasekhar was a member. He serves on a variety of government advisory panels connected with key statistics, including the Standing Committee on Statistics, Ministry of Statistics and Programme Implemention, Working Group of Select Surveys, and the All India Financial Inclusion Survey by NABARD.
Mittali Sethi is an Indian Administrative Service (IAS) officer of the 2017 batch, Maharashtra cadre. She has served as the Sub-divisional Magistrate at Melghat in the Amravati district and as CEO, Zilla Parishad (rural local body) in the Chandrapur district of Maharashtra. She is currently serving as the Director of VANAMATI, an agricultural research and extension institute. Her areas of interest and work include forest rights and tribal issues, public health, waste, and climate change as it applies to people's lives, and participatory education-with-love for both children and adults.
Udit Misra is a journalist, and has reported on India's economy and policy issues for the past two decades. Since 2019, he has been with The Indian Express, for which he writes a weekly explanatory column titled ExplainSpeaking. In 2021, he moderated a series of webinars on India's internal migrants for the newspaper. He holds a Master's degree in Economics from the Delhi School of Economics, and is a Chevening South Asia Journalism Fellow from the University of Westminster.
Please register here to attend