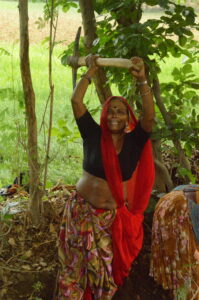 Conversation on Women's Land Rights
by Mr. Deepak Sanan (Ex-Additional Chief Secretary of Himachal Pradesh)
What are the challenges that restrict Indian women's access to equal and secure land rights?
Ownership rights are overwhelmingly recorded in men's names- close to 88%. Even when women may be tilling the land, they may not have their names on the record. Even amongst those small numbers recorded as owners, women own proportionately less land than men. Explanation for this lies mainly in patriarchy. Families as well as communities have preconceptions about women's place that does not see them as indpedent producers. This is compounded by the lack of focus on their education and role allocation.
What administrative reforms are needed to ensure that women's share in land titles are recorded correctly?
I think it is most important that revenue officials receive intensive repeated training on the subject: the prevailing laws regarding women's rights to property and the officials' responsibility to ensure an accurate record in this context.
Do you think that a regular and updated database can help in better understanding the situation of women's land ownership in India? Are currently available datasets sufficient to address this issue? If not, what are the gaps in your view?
I think there are two issues here. One relates to the general issue of updating of records and ensuring they are more in tune with the real time situation. The second is of ensuring that the law is respected in updating the record. Succession rights are often not conferred on daughters as per the law. Both need closer attention from those responsible but from a gender perspective, the second is crucial.
What are the progressive steps that the Indian government has taken so far in this direction and where are the gaps?
The Hindu Succession Act applies across the country to confer equal rights of inheritance on women. Various states have taken two additional steps: conferring joint ownership in issue of pattas of ownership or lease on those given rights on government owned land and reducing stamp duty rates if the transferee is a woman in case of registration of a property transaction. Both have value in enhancing the formal ownership of women. The limitation remains the actual act of updating records to reflect women as owners and of course patriarchy which is difficult to overcome even with statutory or economic incentives.
What do you think are some of the reasons behind the difference in the percentage of female land ownership between the states?
Primarily, it is a difference in the extent of patriarchal attitudes and role allocation. It is responsible for the historical skew and also impacts the actual implementation of laws and schemes which seek to redress the balance.
What would it take to strengthen women's land rights in practice?
Social movements, and progressive change in attitudes are key to bringing change. Rapid economic change, urbanisation, women's education and entry in the labour force at a higher level, all have an impact. However, it could do with a greater push through emphasis on more conscious efforts at implementation of the law and proactive steps. For this, capacity building of concerned officials, which has received limited attention, could help. We need much more research to highlight the evidence of the extremely skewed situation on ownership and rights on the one hand and also at the same time to bring out how a greater balance also reflects better social and economic outcomes for society in various ways.
****************************************************
Deepak Sanan is a former Indian Administrative Service officer (Ex-Additional Chief Secretary of Himachal Pradesh). He held senior positions in public finance, land governance, and the water and sanitation sectors at both the state and national levels. During his career, he was associated with various international and bilateral donor organisations as a consultant. He also served as the India Country Team Leader in the Water and Sanitation Program (South Asia) at the World Bank. After his retirement he has advised NCAER, CPR and IIHS on issues related to land governance, public finance, state capacity, water and sanitation.